10/ St Barthélémy church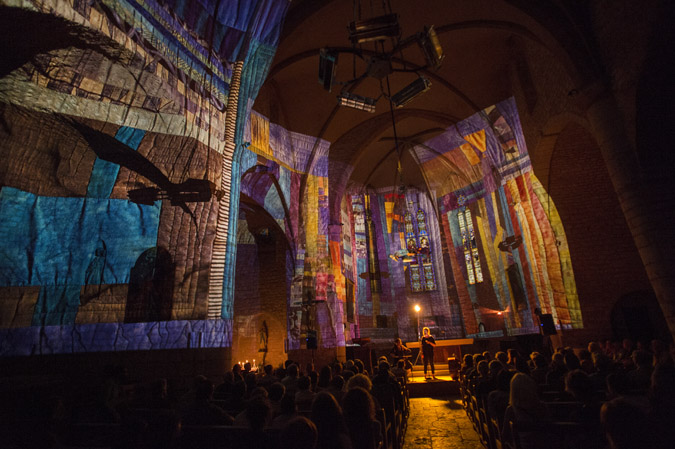 CONCERT FOR FLUTE AND ORGAN
« Le chant du souffle »
Le duo éolien
The concert lasts appriximately 22 minutes, and will continue to be repeated after a 10 minute pause.
Le Duo Eolien performs contemporary works highlighting the qualities of their two instruments to create a poetic whole.
Flute  : Mélanie Filipiak
Organ : Aurélien Fillion
Programme
Laurent Carle : Bruissements éoliens (1999) for flute and organ
Le Duo Eolien : Improvisation
Daniel Roth : Aïn Karim (1995), fantaisia for flute and organ
 
Mélanie Filipiak is both performer and teacher, focusing mainly on chamber music. She currently teaches at the Conservatoire of Vendin-le-Vieil in the Pas de Calais region. Her affection for the same musical esthetics as Aurélien Fillion, notably contemporary music and chamber music, led to the formatioin of their duo.
Aurélien Fillion is an eclectic musician who has received awards for each of his specialities: flute, organ, writing and even improvisation for which he gained a master's degree with distinction. In collaboration with Guy Reibel, Edith Lejet and Frédéric Boulard, he began to compose, creating « Exploration granitique » (which received the award for organ composition at Oloron, 2006) ; « Zooms » (award for organ composition at Aristide Cavaillé-Coll (2011) ; « Les horloges » (finalist award for teaching composition Boulogne Billancourt, 2012).
www.aurelienfillion.weebly.com
LIGHTING TRANSFORMATION
Bernard Tauran, after the stained glass windows of Guy Lefèvre
Guy Lefèvre was born in Madagascar in 1933 has lived on the island of La Réunion for some fifty years.As the only stained glass master working in the Indian Ocean, his modern creations and restorations have made an important contribution to the architectural heritage of the island.
Exploring all the techniques of his art, his luminous frescos flood many churches and public buildings with coloured light.
He also paints and sculpts. A book and a DVD entitled "Guy Lefèvre, maître verrier à La Réunion" are due come out in autumn 2016.